Live and let fly: Bond Jets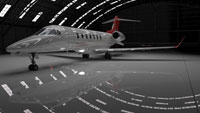 All eyes are on Bond this month, with the film franchise reaching its 50th anniversary and the much-anticipated Skyfall about to open at the box office.
Of course gadgets are essential components of any Bond film and over 150 aircraft and spacecraft have featured across the 22 movies.
Private jet aircraft have featured many times: discretion, speed and cutting-edge cool are clearly essential requirements for the superspy.
To book private jet prices call our 24 hour expert flight team on {{telephone}}
Here are a few of our favourite private jet moments from the world of Bond: